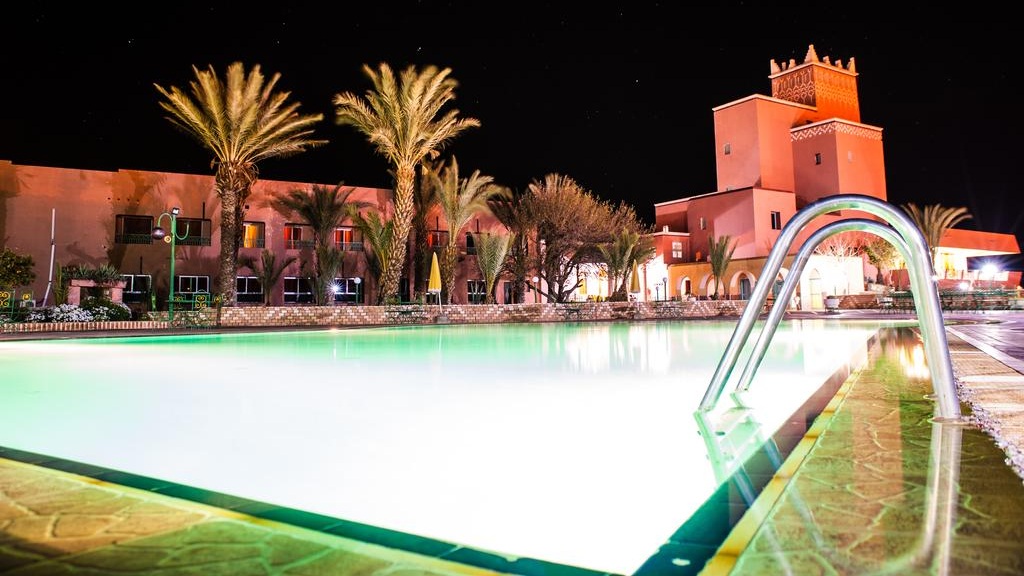 Day 1 : London - Marrakech - Ouarzazate
Fly out from London Gatwick at 7:40 am. We will arrive at Marrakech where our personal guide from Moroccan Circuit will collect us.
5 hour drive, Overnight in Ouarzazate
Day 2: Ouarzazate - Mhamid -Sahara Desert
This drive takes you through the beautiful Draa Valley. here we will stop outside of the town for lunch under the palm trees, after lunch we continue driving to the end of the route Mhamid where we will meet out camelteers to start our trek across some little sand dunes to reach the end of the the palm trees known locally as Ras Nkh.
1hr 30min Trek
For your first full day, you will trek further into the desert, experiencing what life there is (and there is more than you think) and the tranquillity that it can bring. Life is simple here.
With no ambient light and the desert to absorb all sound, the evenings and nights are just so dark and quiet. It is quite eerie even just to sit on a small dune overlooking the camp site and just look and listen. The stars are so bright and it is very easy to spot the orbiting satellites as they speed across the skies above you.
6hr Trek
Today you will continue your journey and by now you will be wondering how your Guide is navigating; it all looks so similar with no landmarks to speak of. Although your days are spent walking separately from your support crew, they will always be miraculously waiting for you when you arrive at your lunch or evening stop. This is potentially a long day. Overnight in Camp. Campfire under the stars.
6hr Trek
As you trek deeper into the Desert you will experience deeper and more abundant dunes until you can see Erg Chigaga on the horizon. Camping tonight will be amidst the dunes close to "Eric", and once camp is set up, you will climb this 300m (1000ft) dune to watch the sunset across the Sahara.
This is a moving and quite surreal experience for most people as the colours of the desert are highlighted by the setting sun. A time to reflect and truly experience the silence surrounding you.
6hr Trek
Day 6: Sahara Trekking - Erg Chigaga
Today is the last day of walking to Erg Chigaga as we will experience a camel ride for a picture as a souvenir from the Sahara, overnight will be in a fix camp with shower facilities, We will witness live Desert Qurbani and eat Mchwi (Spit roast) sheep for dinner. Campfire under the stars.
6hr Trek
Day 7: Desert - Ouarzatete
After breakfast we will get the 4*4 to get us out to the beginning of the route where we will get the busses to Ouarzazate.
Night in Ouarzazate
Day 8: Ait Ben Hadou - Marrakech - London
After breakfast, we drive from Ouarzazate to Air Ben Hadou. As part of our Prophetic Revival Programme, we will learn the art of Horse riding. The 1 hour horse ride.
Return flight 9pm
Included
Flights (Return from Gatwick)
All inclusive meals
Ground transfers by minibuses / taxis: (Airport - hotel – trek – hotel - Airport)
English speaking guide, and cook
Religious lectures provided by Shaykh Abu Ubaid (Dar Al-Arqam)
Group Seminar (6 weeks in advance)
Camels for baggage
Qurbani Feast
1 hour horse riding
2 nights Hotel in Ouarzazate
5 Nights in Camp
Not Included
Travel insurance
Travel arrangements to and from London Gatwick
Hold Luggage Allowance (Cabin Only)
Soft drinks
Tips and personal expenses
Essential Equipment
3 to 4 season sleeping bag
Walking shoes
Water bottle or camel back (recommended)
Soft-sided bag (30-40 litres)
Lightweight daypack
Sunglasses
Sunscreen
Torch and batteries
Towel & all personal toiletries
Trip Cost
£640
(£150 Deposit)